Face with Stuck-Out Tongue and Tightly-Closed Eyes Emoji
😝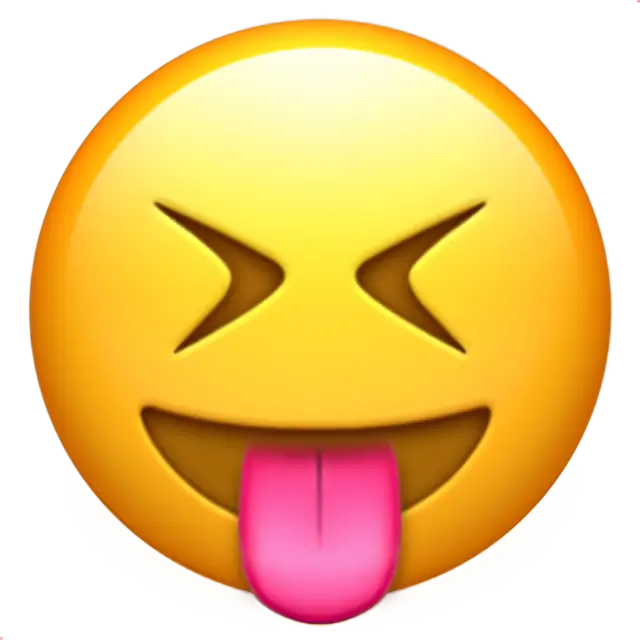 U+1F61D
Why is the symbol not displayed?
Emoji Meaning
A yellow grinning face with eyes tight-closed and a tongue sticking out. It may have various meanings from joy, excitement, playfulness, to an expression like "Ew, gross!"
The symbol "Face with Stuck-Out Tongue and Tightly-Closed Eyes" is included in the "Faces" Subblock of the "Emoticons (Emoji)" Block and was approved as part of Unicode version 6.0 in 2010. In 2015, it was also approved as an emoji in version 1.0 and added to the "Face with Tongue" Subcategory of the "Smileys & Emotion" Category.
Text is also available in the following languages: Español; Русский;
Synonyms
Squinting Face With Tongue, tongue out.
| | |
| --- | --- |
| Version | 6.0 |
| Block | Emoticons (Emoji) |
| Type of paired mirror bracket (bidi) | None |
| Composition Exclusion | No |
| Case change | 1F61D |
| Simple case change | 1F61D |
| Encoding | hex | dec (bytes) | dec | binary |
| --- | --- | --- | --- | --- |
| UTF-8 | F0 9F 98 9D | 240 159 152 157 | 4036991133 | 11110000 10011111 10011000 10011101 |
| UTF-16BE | D8 3D DE 1D | 216 61 222 29 | 3627933213 | 11011000 00111101 11011110 00011101 |
| UTF-16LE | 3D D8 1D DE | 61 216 29 222 | 1037573598 | 00111101 11011000 00011101 11011110 |
| UTF-32BE | 00 01 F6 1D | 0 1 246 29 | 128541 | 00000000 00000001 11110110 00011101 |
| UTF-32LE | 1D F6 01 00 | 29 246 1 0 | 502661376 | 00011101 11110110 00000001 00000000 |
Отображение этого Emoji в разных системах
Apple

Google

Facebook

Twitter

Mozilla

Microsoft

Samsung

LG