Lab Coat Emoji
🥼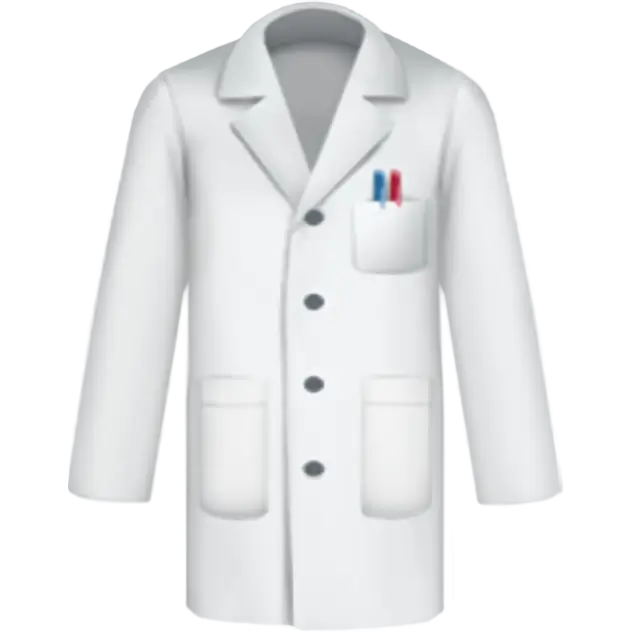 U+1F97C
Why is the symbol not displayed?
Emoji Meaning
A lab coat. This type of coat is commonly worn by medical staff at laboratories and institutions like that (hospitals, drug stores).
The symbol "Lab Coat" is included in the "Clothing" Subblock of the "Supplemental Symbols and Pictographs" Block and was approved as part of Unicode version 11.0 in 2018. In 2018, it was also approved as an emoji in version 11.0 and added to the "Clothing" Subcategory of the "Objects" Category.
Text is also available in the following languages: Español; Русский;
| | |
| --- | --- |
| Version | 11.0 |
| Block | Supplemental Symbols and Pictographs |
| Type of paired mirror bracket (bidi) | None |
| Composition Exclusion | No |
| Case change | 1F97C |
| Simple case change | 1F97C |
| Encoding | hex | dec (bytes) | dec | binary |
| --- | --- | --- | --- | --- |
| UTF-8 | F0 9F A5 BC | 240 159 165 188 | 4036994492 | 11110000 10011111 10100101 10111100 |
| UTF-16BE | D8 3E DD 7C | 216 62 221 124 | 3627998588 | 11011000 00111110 11011101 01111100 |
| UTF-16LE | 3E D8 7C DD | 62 216 124 221 | 1054375133 | 00111110 11011000 01111100 11011101 |
| UTF-32BE | 00 01 F9 7C | 0 1 249 124 | 129404 | 00000000 00000001 11111001 01111100 |
| UTF-32LE | 7C F9 01 00 | 124 249 1 0 | 2096693504 | 01111100 11111001 00000001 00000000 |
Отображение этого Emoji в разных системах
Apple

Google

Facebook

Twitter

Mozilla

Microsoft

Samsung

LG