Sparkles Emoji
✨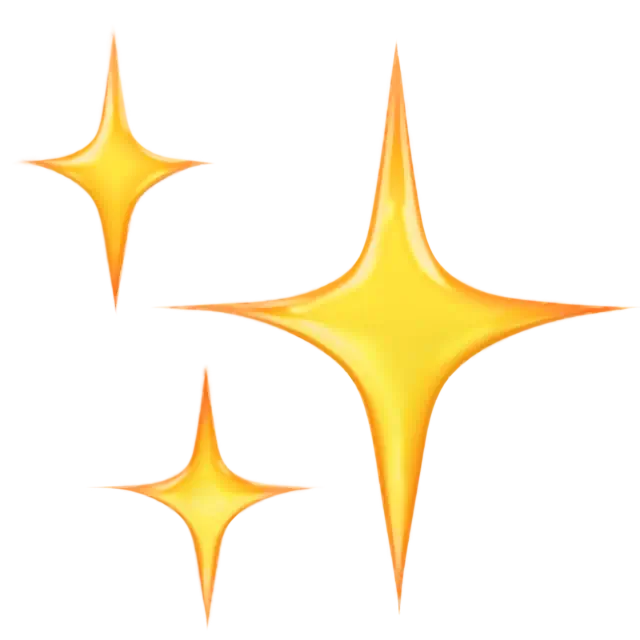 U+2728
Why is the symbol not displayed?
Emoji Meaning
Such sparks may symbolize a shine of something well polished.
The symbol "Sparkles" is included in the "Stars and asterisks" Subblock of the "Dingbats" Block and was approved as part of Unicode version 6.0 in 2010. In 2015, it was also approved as an emoji in version 1.0 and added to the "Event" Subcategory of the "Activities" Category.
Text is also available in the following languages: Español; Русский;
Synonyms
Shine, stars, New Year, Christmas, glitter, shiny.
Unicode Name
Sparkles
Unicode Number

HTML

Code
CSS Code
Unicode Block
Dingbats
Unicode Subblock
Stars and asterisks
Unicode Version
6.0 (2010)
Emoji Version
1.0 (2015)
Emoji Category
Activities
Emoji Subcategory
Event
| | |
| --- | --- |
| Version | 6.0 |
| Block | Dingbats |
| Type of paired mirror bracket (bidi) | None |
| Composition Exclusion | No |
| Case change | 2728 |
| Simple case change | 2728 |
| Encoding | hex | dec (bytes) | dec | binary |
| --- | --- | --- | --- | --- |
| UTF-8 | E2 9C A8 | 226 156 168 | 14851240 | 11100010 10011100 10101000 |
| UTF-16BE | 27 28 | 39 40 | 10024 | 00100111 00101000 |
| UTF-16LE | 28 27 | 40 39 | 10279 | 00101000 00100111 |
| UTF-32BE | 00 00 27 28 | 0 0 39 40 | 10024 | 00000000 00000000 00100111 00101000 |
| UTF-32LE | 28 27 00 00 | 40 39 0 0 | 673644544 | 00101000 00100111 00000000 00000000 |
Отображение этого Emoji в разных системах
Apple

Google

Facebook

Twitter

Mozilla

Microsoft

Samsung

LG